(Warning: Theology book review.  And also a bit of gushing.)
Steve Gregg's Revelation: Four Views: A Parallel commentary is such a great book that it easily overcomes the two colons in its title.  His latest work, All You Want to Know About Hell: Three Christian Views on God's Final Solution to the Problem of Sin is likewise awesome enough to overcome the terrible title and awkwardly long subtitle that includes the words "Final Solution."
His Revelation book took a controversial topic (interpretation of Revelation) and set it out in such a logical and balanced way as to be an indispensible tool for studying that most difficult of books.  In the same way, this book lays out an evenhanded look at the three views of Hell taught by evangelicals today.
As I mentioned above, the title is terrible, and Steve himself has said as much on the Rethinking Hell podcast.  It's not the title he wanted, and it implies that his book might be a sister book to Randy Alcorn's excellent but imperfect Heaven.  No, Steve isn't discussing the nature of Hell so much as its purpose.  So while there isn't much time given to "are there real flames?", the entirety of the book deals with the bigger questions like "Is Hell forever?" and "What does Hell say about the nature of God?"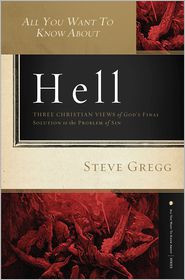 For those not in the know, who might have been raised thinking there was the Christian view and then a variety of heretical views, the three views taught by respectable evangelical scholars are:
Eternal Conscious Torment, aka Traditionalism
Conditional Immortality, or Annihilationism/Conditionalism
Universal Reconciliation, or Restorationism/Christian Universalism
Most assume that #1 is the only biblical view.  Quite simply, that's just incorrect.  Steve Gregg rightly shows that far from being unbiblical, the other two views can actually marshal more scriptures in their favor than can the Traditional view.  Of course, theological arguments aren't won or lost on the strength of the numbers of verses supporting them but on the proper interpretation of all the scriptures.
The book is laid out in very logical format, as you'd expect if you read Revelation: Four Views.  It starts off by introducing the topic and explaining why it's important.  The long and the short of it is that the nature of Hell says something about the nature of God. 
The one fact, above all others, which I have desired to get across is that our view of hell is inseparably joined to our view of God.  I believe that many Christians have simply assumed that they already know what the Bible teaches about hell, and have formed their notions of the character of God to accommodate their theory.  My suggestion is that this is doing things backward.
Steve then continues into some basic background on the issue, including a discussion of Lazarus and the Rich Man (about which I blogged some time ago), how best to understand the important words Gehenna and Aionios, and a chapter about the views of the early church (spoiler alert on that: all three views were represented).
Having laid the groundwork for a more specific discussion of each view, Steve then takes each view in turn, first presenting a positive case for each, then cross-examining each from the perspective of the other views.  In each section, he heavily quotes supporters of the various views.
One thing I particularly admired about this book, especially given the dreadful title, was the clever headings for each view:
First, the Bad News (Traditionalism)
The Bad News is Not As Bad As You Thought (Conditionalism)
The Good News is Better Than You Thought (Universalism)
BTW, I'm crediting Steve with the clever heading titles and giving him a pass on the book title, since I know he doesn't like it, either.
I can say that I find the book evenhanded, but it's mostly because I'm not committed to any of the views.  Oh, I'm pretty solidly against the Traditional View, and this book certainly didn't push me one way or another on that, but I really haven't decided between the other two.  I've read both cases, and they each have their strong points.  I certainly hope the Restorationist View is correct, as I'd imagine most would hope.  But I remain unconvinced by it, even though I'm certainly open to it. 
I'm sure someone coming from a solidly Traditionalist perspective could find it outrageous that the other two views are even treated as orthodox or evangelical, and that makes me a little sad.  I won't pretend to respect that kind of lack of genuine introspection.
With regard to Traditionalism, I appreciated this quote:
A number of the points made in favor of the traditional viewpoint depend heavily upon traditionalist presuppositions being read into the texts.  With very few exceptions, the passages presented as evidence are assumed to support the endless duration of conscious punishment, without the passages actually making any direct reference to such a concept.
I think this is largely accurate.  I think a person undertaking to read the Bible through for the first time after having been raised in the church already has a solid idea of what Hell is like.  So it's perfectly understandable that they'd read that into the text and never question their starting point.  The same could be truly said for a number of other positions commonly held today.  (For that matter, someone raised Universalist or Annihilationist could have the same issue.)
It's tough to reevaluate our basic assumptions and let the text speak for itself.  It's actually quite painful when you find that your long-held views aren't as obvious as you once thought.  And changing your views doesn't always go over with your family and friends:
…."reformed and always reforming"…is an ideal more easily affirmed than followed, since intellectual inertia is often strong, and the tradition is often embraced by those whose approval has some impact upon our social acceptance, our finances, our reputations, and our careers.  To be "always reforming" is an excellent way to guarantee that we shall offend the maximum number of our conservative friends.
And yet it's a worthy endeavor, and it's the reason I read through the Bible every year.  My changing views aren't a result of ignoring the scriptures; they're a result of reading them.  Still, though, I appreciated this tidbit Greg Boyd linked to.  It's in an article by Roger E. Olson titled "How to Solve a Theological Dilemma when Scripture Doesn't Clearly Solve It" (emphasis added):
8. Back to fundamentalism versus non-fundamentalism: A fundamentalist will reject this entire method of solving theological and doctrinal dilemmas because it admits ambiguity in the Bible about even some important theological and doctrinal issues which is impossible from a fundamentalist point of view.  Many non-fundamentalists will also reject this method for a very different reason: they are so comfortable with ambiguity (and perhaps afraid of fundamentalism) that they don't feel any need to settle doctrinal and theological issues about which the Bible is not crystal clear.  Both approaches have problems, however.  The fundamentalist approach leads to numerous schisms and divisions to say nothing of imposing personal opinions on the Bible and making all doctrinal and theological issues equally important.  The opposite approach leads to warm, fuzzy spirituality devoid of cognitive content and leaves inquiring minds without satisfying answers.
All that being said, I highly recommend this book.  It's a terrific resource and would make a great group study that would likely spur healthy (and loud) dialogue).  But I also recommend, as Steve would (and does, frequently, on his radio program), a thorough reading of the whole Bible.  It takes time, but it's worth the effort.
Next up, it's Alas, Babylon, which is a re-read for me of a very classic post-apocalyptic book.  I'm also reading Do You Believe in Magic: The Sense and Nonsense of Alternative Medicine, and Letters from a Skeptic (no longer free, but under $4 from B&N and Amazon as an eBook).
If you got this far, you must be a good friend of mine.  Probably with initials CK.