I've decided I'm going to start doing combined book/movie reviews for topics we cover on Take Me To Your Reader.  I still, of course, encourage you to listen to the show, because there's two other perspectives there, and you shouldn't just take my word for things.
Okay, yes you should, but you should at least pretend to listen to someone else, too.
For our Halloween episode, we decided to go with a written work that led to a scary movie, so we went with John W. Campbell's 1939 novella "Who Goes There?"  It was selected for a Retro Hugo this year, and it's been adapted three times, depending on your definition of adapted.
The story is set at an Antarctic Expedition base, where a team is studying magnetic fields and cosmic rays and such.  When they detect an anomaly far from the pole, the team investigates and finds a crashed alien spacecraft.  With a passenger who's evidently left the ship and been frozen in the ice for 20 million years.  After some debate as to whether they should thaw the alien, it's decided that it needs to be studied, so one of their number is selected to watch over the slow process.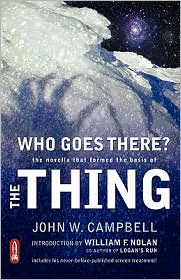 And then the alien escapes.  The problem is that it turns out the alien is both a shape-shifter an mind-reader.  It's pretty good at hiding in plain sight.  It's able to copy a person exactly, right down to the personality.  Paranoia ensues.  How will they tell who's real and who's not?  Clearly such a creature must be stopped lest the entire planet be assimilated.
If there's a fault with the novella, and there is, it's that there are so many characters as to be hard to follow.  It may be that this was deliberate, but it seriously hampers the readability of the story, at least for me.  There's also some pretty stilted dialogue, brought into sharper relief by the standout dialogue in the original adaptation.
As I said, the novella was adapted three times, first in 1951's The Thing, subsequently re-branded The Thing (From Another World) to avoid confusion with the 1982 adaptation.  The first go-round adapted the 10,000 foot view, with a polar expedition (at the wrong pole) and alien spacecraft and alien on ice, but very little else.  It's still a terrific movie, with brilliant dialogue and good performances, particularly highlighted by Margaret Sheridan, who despite being the attractive love interest in a 1950s horror film, never once screams.  She's not the lead, so it's not exactly a feminist dream, but at least she had more to do than look pretty and scream dramatically.
The movie also has a couple of standout action set-pieces, with the first example of stunt-immolation and a couple of awesome jump scares.  The creature isn't a shape-shifter, but rather a vegetable-based life form that feeds on blood.  So it's essentially a vampire film that plays out a bit like Jaws.  The paranoia of the book is completely lost, but it's still highly worth watching.  It's also notable that James Arness of Gunsmoke fame played the titular Thing.
My view on remakes is that if an earlier film stuck closely to the source, a remake should take things in a different direction.  Otherwise, what's the point?  The converse of this is that if an earlier adaptation left a lot on the table, it's done you a favor.  Go back and adapt more of the story.  And that's exactly what John Carpenter did in his 1982 film, The Thing.  It's truly a frightening film, with some intense gore and breathtaking practical effects.
The paranoia missing from the original film is back with a vengeance here, played brilliantly by Kurl Russell, Keith David, and Wilford Brimley, among others.  As I said, the alien effects are just spectacular, gross and disturbing in an entirely awesome way.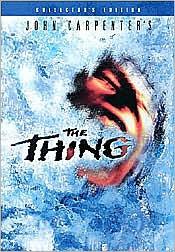 Interestingly, the 1982 film leaves a bit of story on the table, never showing the alien being cut out of the ice and brought back to camp.  Instead, the characters in this film find out about the alien secondhand, the initial encounter having occurred at a Norwegian outpost.  The ending is also different from that in the novella, but I found it more satisfying in its ambiguity.
Again, this is a Rated-R film for language and considerable gore.  Not for kids, but it's intense and frightening in all the right ways, and this is coming from someone who isn't a fan of horror movies in general.  I'll stretch in the Sci-Fi/Horror direction, but not much beyond that.
So what happened at that Norwegian camp?  The 2011 film functions as something of a prequel, with shades of a remake in it.  Since the 1982 film doesn't show the initial discovery of the crashed craft and alien, this one picks those things up and runs with them, making nods to the original while going its own direction in a few key places.  It's a bit more on the action side, but still with a goodly amount of gore and language in it, certainly enough to earn its R-rating. 
The lead this time is Mary Elizabeth Winstead, and she turns in a strong performance (incidentally, the film passes the Bechdel Test, with there being no love interest or musings about men even occurring).  The paranoia is still front and center, and the film nicely sets up the 1982 version.  In fact, it could be argued (and is, on the podcast) that the two films really together comprise one adaptation of the novella.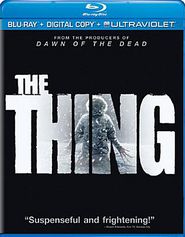 And here we get to the downside.  The effects, while decent, don't rise to the level of awesomeness of the previous film.  There are some standout practical effects, but they're lost in a sea of not quite stellar computer effects, which is a real shame.  It actually surprised me how much I enjoyed this film, despite a few quibbles.  I've been used to remakes of classic films being rather lackluster (looking at you, Tim Burton's Planet of the Apes).
If you want my full ranking of the four expressions of this story, you'll have to head over to the podcast page and listen for it (actually, the rankings are in the Show Notes, but you should still listen).  But I'm recommending all of them.  It's nice when there's no an obvious stinker in the bunch.
What do you think?  Is this worth doing?  I could go back and hit everything we've done if it's well received.