(Warning: this is a bit wordy.  And it's about Science!)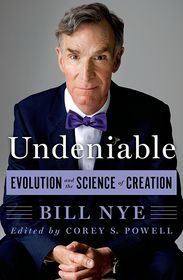 I'm really not wanting to start any controversy here, but if you're going to read this, keep in mind this book is about evolution.  So if it would freak you out to learn that I'm pretty much in agreement with the author on this one, maybe you should just move along.  Or you could read on and talk to me about what I wrote.  I'm happy to dialogue about anything here, so long as it's more friendly chat than fire & brimstone sermon.
I, like many others, watched the Ken Ham v. Bill Nye debate at the Creation Museum, and like most people, wasn't swayed from my position by it.  I find that most of Ken Ham's arguments border on the absurd, and his absolute certainty that his position is correct is honestly a bit unnerving.
I'm uncertain about many things.  I'm comfortable with uncertainty.  I'm a Christian, but I acknowledge that I could be wrong about the existence of God or the historicity of the Bible (though I also don't hold as high a view as some in that regard).  I could be wrong about my views of creation, about the End Times, about any number of topics.  There are virtually no views I hold that I'm not open to reviewing.  I care about being correct, so much that I'd actually like to be corrected if I'm wrong.  It seems to me this is a healthy attitude.
And then there's this:
I watched a debate between Dennis Venema (a Christian defending evolution) and Georgia Purdom (a representative of Answers in Genesis) and saw the same interchange.  What would change Venema's mind?  Evidence.  What would change Purdom's mind?  Nothing.
I don't see how that kind of rigidity is helpful, honestly.
And then there's the sloppy science.  Ken Ham's quote that "If there were a worldwide flood, we would expect to find billions of dead things buried in rock layers all over the world, and that's exactly what we do find" is just one example, but it's a major one.  "Billions of dead things buried in rock layers" isn't what you'd call a testable hypothesis.  What kind of order would be predict to find them in?  What kind of ages would we expect to find in those rocks?  How would those rocks form in a few thousand years?  Would you expect essentially a random distribution of dead things?
Undeniable: Evolution and the Science of Creation is Bill Nye's way of venting a bit after that debate, along with providing a passionate plea in defense of evolution and the importance in including it in education.  He goes a bit far in saying that children taught creationism would never be attracted to science or succeed in it, I think.  But he's also right that setting the Bible up as opposed to science isn't a good precedent.  One side wins.  From my perspective, it's wrong to throw out either.  (Loren and Deborah Haarsma, whose excellent Origins I reviewed a while back, agree with me on this.)
There are a few missteps in the book (and in the debate) from Mr. Nye.  He claims that he never undercut anyone's faith or disparaged religion during the debate, but he clearly did.  Several times, he referred to the Bible as an ancient book that'd been written by multiple authors and revised and revised through history.
What's that you say?  That's a completely accurate statement?  Well, of course it is.  But that doesn't make the statement any less of an attack.  Like I said, if people are looking at evolution as opposed to Scripture, you get NOWHERE by trying to explain how they've got Scripture wrong.  Stick to the science.  If what you say is seen as an attack on the basis of my faith, I'm more inclined to tune you out.  Besides, you're not an expert in the Bible, Bill.  Stick to your stuff.
And in the book, he does, though with one more issue I'll discuss later.
Nye eloquently points out that the distinction between micro and macroevolution is a false one.  Given enough time, it's all the same.  (You may disagree, but I don't think you've got an argument here.)  Small changes accumulate over time.  Deep time is impossible to conceptualize.  Billions of years!
For me, one of the more convincing aspects of evolutionary theory is the concept of Convergent Evolution.  The idea is that evolution predicts (a testable prediction) that species occupying similar ecological niches should have similar form.  Even if those ecological niches have been separated for millions of years.  So as an example, you might find mice in Northern Europe in certain niches.  In Australia you might find mice in them as well.  But they just might be marsupial mice.
Marsupial and placental mammals have a common ancestor, but at some point it seems the marsupials were largely isolated and diversified along similar lines to the way placental mammals did.  So you have placental groundhogs in North America and marsupial wombats in Australia.  Placental wolves in North America and marsupial wolves (the unfortunately extinct Tasmanian tiger) in Australia.  Placental rabbits in Europe and marsupial rabbit-eared bandicoots in Australia.  Evolution predicts this, much the way it predicts that dolphins and sharks should have similar form and function, though one is a fish and the other a mammal.  The niche necessitates the form, though the forms may originate from very diverse branches on the tree.  You don't get much more diverse than fish and mammal.
Of course, a Creator could have created similar things in similar places.  But don't kid yourself into thinking that's a scientific statement.  More importantly, if the flood happened and scattered billions of things in the rocks, why don't we find marsupial fossils scattered all over the world?  Surely some animals would've died on the way back from Mt. Ararat to Australia?  And by the way, how did they make it back to Australia?
Finding a fossil out of place is the kind of evidence Nye mentioned in the things that could change his mind.  The absence of this kind of evidence makes young earth creationism seem scientifically bankrupt.
I should clarify that I grew up believing in a young earth, and in a literal six day creation.  It's been a process of many years to come to understand that evolution happened, that humans share a common ancestor with all other life on this planet, and that it's okay to believe that and still be a Christian.  But the process was painful.  I don't think it would have harmed my faith to learn these things earlier.
And now to the other misstep in the book.  Abiogenesis.  Life from non-life.  This is not really part of evolutionary theory.  Evolution says that after life arose, it increased in complexity by way of many small mutations that conferred selective or reproductive advantage.  The question of how life formed in the first place is something else entirely.
Unfortunately, it's not at all uncommon to hear an objection to evolution along these lines: "I just can't accept that life came from nowhere."  You don't have to.  Believe what you will about the origin of life.  But if you look at the science, you'll find there isn't a grand conspiracy to cover up the evidence for a designer.  The evidence just isn't there.  (I probably offended someone just now.  Feel free to object.)
One other interesting point Nye makes in the book is the principle of "good enough."  If creationism were true, you'd expect to see perfect designs everywhere.  But what you see are designs that are good enough to get the job done.  He cites the backward design of the vertebrate eye as an example here, along with the cephalopod eye as an example of convergent evolution (two fundamentally different structures that do the same thing.)
Ultimately, Nye challenges the reader to embrace science as a way to explain the universe:
…religious explanations are unsatisfactory.  They don't take me anywhere; you either believe them or your don't, and that's that.  Scientific theories of the origin of life are open to questions, to tests, to revisions, to replacement with new and more insightful theories.  One path leads to a dead halt.  The other leads to thrilling, limitless forward motion.
I won't totally agree with him here, as obviously I believe in God.  But I don't believe it somehow makes God smaller to believe that the natural processes He put in place (I do believe in a Creator even if I'm not a Creationist) brought forth the complexity we see around us today.  Saying He didn't intervene in a special way in that process doesn't make that process any less special.  But I'll understand if you disagree.
I'm sure there are people out there who'd read this and conclude that as I've rejected creationism, I've rejected the Bible.  And they'd be wrong.  I haven't rejected the Bible.  I'm still trying to figure out how my new views on science can be reconciled with Scripture, but I haven't landed yet.  I've got some ideas, and I'd be happy to discuss them.  But the point is I'm open to being corrected if my understanding is incorrect.  It's actually fun!  Sure, it's a bit scary at times, but isn't that part of the fun?
Changing gears here, I wanted to give a plug for our latest podcast episodes on Take Me To Your Reader.  We just covered Total Recall, and we did a bizarro-podcast and covered the novelization of the movie as well.  I'll also be posting a supercut of us sounding like idiots soon, and then we'll be covering Rollerball.
In the meantime, I'm planning to get a review up for R.U.R. in the near future, and I've just started reading The Stepford Wives (also for the podcast).