I was so pumped when I found out there was a new Jumper book coming out!  I hadn't been paying close attention, and by the time I knew it was coming, it was only a couple of months away.  And yes, I pre-ordered it and paid full price.  Totally worth it.
It's really going to be impossible to review this book without major spoilers for the series as a whole, and Impulse in particular.  Suffice it to say that while it's not my favorite of the series, Exo still packs the geeky-fun punch I was looking for.  If you haven't read the series, I highly recommend it.  (Late teens and up, I think, at least for the first two books.)  From here on, beware the spoilers.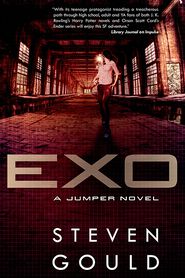 Still with me?  Okay, you may recall that Jumper read almost like a superhero origin story, and as such the plot was almost secondary to the character exploring his abilities.  This isn't to say it was a bad plot, but at least for me, it was more about Davy figuring out what he could do.  Great stuff.  Reflex had, to me, a more interesting sci-fi premise: how would you control a teleporter?  That's why on the whole, I prefer Reflex.
Impulse was, in some ways, a step backward, with Cent discovering her abilities, but I also consider it better than Jumper because of the novelty of her approach to her powers, figuring out how to add velocity to her jumps, allowing her to essentially fly and enhance her own strength (though not without a few atomic wedgies and sprained wrists along the way).  I also liked that it was a female superhero we were dealing with.
Exo continues the story of Cent's exploration, taking things in the direction I hadn't necessarily considered but that's completely logical.  Why not teleport into space?  With the right equipment, she could easily get into orbit.  With her ability to add velocity, she could even travel to different worlds.
So that's part of the awesome of this book.  Nicely geeky.  But then Gould goes full nerd and gets into the tech she'd need to support her in near vacuum, talking about advances in materials science and the future of spacesuits.  (Here's a link to an MIT News article about a similar technology to that presented in the book.)
Of course, showing up in orbit tends to get you observed by the government, and the Jumper family doesn't like being on anyone's, er, radar.  So there's a bit of drama there, some of it quite hilarious.  Imagine how you could mess with people if you were able to get yourself into orbit?  Really, though, teleporting itself is prank-fodder enough.
It's possible that some readers might get bogged down in some of the technical details of spaceflight, but I credit Gould for doing the legwork to make it all at least seem plausible.  (I figure he didn't take much creative license.)
Another sort of weak point, for me, is the love story angle, and I'm not even going to describe it.  I think the book could've been just as good without it, but it's a minor gripe.  Overall, if you enjoyed the rest of the series, this one will be no exception.  I'll be curious to see if we'll get another one.
Next up, it's Joel M. Hoffman's absolutely tremendous The Bible's Cutting Room Floor.
By the way, on the next episode of Take Me To Your Reader, we'll be discussing "Who Goes There?" by John W. Campbell and the three films titled (at least partially) The Thing based on it.  Feel free to send us your thoughts about it.