When I think of cheesy science fiction movies, The Day of the Triffids is always quick to pop up on my list.  Soylent Green is right up there, too, but I remember watching Triffids with my dad and being singularly unimpressed.  But still, it has a special place in my heart because of that connection.
Having recently embarked on a podcast about adapted science fiction, it had to be on the list.  Plus, a blogger whose opinion I trust had recommended the book some time ago.  I still haven't gone back to watch the movie (or either BBC miniseries adaptation), but the book is well worth a look.  (And we'll totally do an episode about it as soon as one of my co-hosts gets off his duff and reads it.)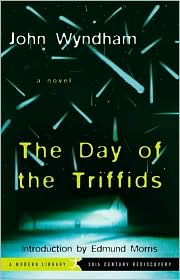 In many ways, it's the typical post-apocalyptic story: something bad happens, and those left unscathed must learn to survive in the new reality.  In this case, a spectacular stellar event robs those who view it (and practically the whole world does) of their sight.  In the wake of the disaster, though, a highly-advanced and lethal plant begins to take over.  Triffids, ambulatory plants cultivated for their valuable oils and other byproducts, now have free reign of England.  Their deadly stings combined with the obvious disadvantage of their victims turns the tide in their favor.
Obviously, some parts of the book reminded me of Blindness just due to the nature of the difficulty experienced by the humans in the story.  But while that book focused on one sighted woman and her community of blind companions in a quarantine facility, The Day of the Triffids focuses mostly on one man, Bill Masen.  And blindness isn't really an antagonist in the story.
He wakes on the last day of his hospitalization following a nonlethal triffid strike.  Ironically, his temporary blindness spares him from the effects of the meteor shower, for he wasn't able to see it.  He wakes to an eerily quiet world.
When a day that you happen to know is Wednesday starts off by sounding like Sunday, there is something seriously wrong somewhere.
Sight isn't his only advantage, for he is a scientist who is more than a little familiar with triffids and how to deal with them.  The action of the book is his attempt to get to safety with a sighted woman he encounters.
One odd thing about the book is that while the triffids are definitely the titular antagonists, some of the more pressing problems encountered by Bill and Josella involve other people.  And sometimes the antagonist becomes the new reality of the quiet and solitude.
Now I was really on my own I could not shut out the sense of loneliness.  Until then I had always though of loneliness as something negative---an absence of company, and, of course, something temporary….That day I had learned that it was much more.  It was something which could press and oppress could distort the ordinary, and play tricks with the mind.  Something which lurked inimically all around, stretching the nerves and twanging them with alarms, never letting one forget that there was no one to help, no one to care.  It showed one as an an atom adrift in vastness, and it waited all the time its chance to frighten and frighten horribly – that was what loneliness was really trying to do ; and that was what one must never let it do….

To deprive a gregarious creature of companionship is to maim it, to outrage its nature.  The prisoner and the cenobite are aware that the herd exists beyond their exile; they are an aspect of it.  But when the herd no longer exists there is, for the herd creature, no longer entity.  He is part of no whole; a freak without a place.  If he cannot hold onto his reason, he is lost indeed;  most utterly, most fearfully lost, so that he becomes no more than the twitch in the limb of a corpse.
Did I mention the book is brilliantly written?  Oh, it's not perfect, but the prose is outstanding as you see above.
Imagine the solitude that would result from the collapse of our society.  Our connected society.  Even though I'm someone who enjoys lonely places and quiet solitude, it makes me shudder a bit to think of our connectedness being removed.
As I mentioned, there's some interesting social commentary, as they encounter more than one group of survivors with very different ideas of how to rebuild society.  One group wants to chuck out the morals of the lost society and forge ahead with new ones, while another wishes to enforce essentially a theocracy in order to maintain order and civility.  And still another wants to take advantage of the likely global situation to erect a new empire with Britain at the head.
My gripes with the book are fairly minor.  The pace is on the slower side, though not all the way to H.G. Wells or Tolkien territory.  (Yes, I dislike Tolkien a fair bit.)  The book doesn't lend itself well to reading in spurts, partially due to pacing, but also partially just by the nature of the immersion you need to get the story.  So if you've got a few hours available, like a plane or train ride, I highly recommend this book for concentrated reading.
The other issue is that while Bill Masen is an adequate protagonist, for much of the book the action sort of happens to him rather than having him drive the narrative by his actions.  But as it's a first-hand account, I guess I can't fault him for not being Jack Bauer.  He just relates what happens, even if it's unflattering to his potential future as an action hero.
One other minor gripe is the ending, which was substantially different than the one I remember from the film.  I certainly don't object to things being changed in adaptations, but I think the filmmakers felt they needed more of an ending than that provided by the book.  It's not really a terrible thing having the ending left a bit open, but I thought I'd warn you.
Overall, I'm definitely filing this under pleasant surprises.  I've said in the past that we hold these truths to be self-evident, that the book is always better than the movie.  And in this case, I definitely agree.  (But will reassess once I've seen the other adaptations of it.)
(Incidentally, in the review that featured the line "we hold these truths to be self-evident," I concluded that it's not always true.  The Princess Bride is the exception.  Tune in to our podcast to see how Farewell to the Master and Planet of the Apes held up against their big-screen adaptations.)