For a long time I was a scoffer about all things comics and graphic novels.  Comics were something I read as a kid when my older sister would buy them, but then I outgrew childish things and start reading real, actual books.  Besides, as an adult I just found them too chaotic, and I had a hard time figuring out where my eyes should go.
Well, obviously I overcame that problem in order to read Crisis on Infinite Earths, but I also got an unexpected assist from Barnes & Noble.  Back on Batman Day, the NOOK Store had a number of awesome Batman comics on sale for a couple of bucks each.  I quickly grabbed Batman: Year One and The Dark Knight Returns, figuring that even if I had a hard time reading them, it'd be worth it.
Well, NOOK Comics with Zoom View (probably trademarked in some way, but I'm Batman), is super awesome.  Instead of having to figure out where to look, I just swipe as if I'm turning to a new page, and it moves and refocuses on what I'm supposed to read next.  So cool!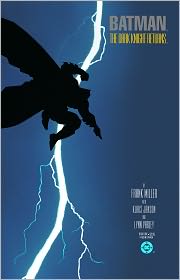 The Dark Knight Returns is one of the more famous graphic novels of all time, made up of four individual but connected stories showing an aging Bruce Wayne resuming his cowled duties as Batman to face a new threat to Gotham.  AND BATMAN TOTALLY FIGHTS SUPERMAN!!!  (I won't tell you who won.)
The stories are certainly compelling, and while I didn't find all the art particularly inspiring (probably blasphemy), there was some pretty awesome stuff anyway.  But really it's the story that's the big ticket item, influencing the film franchises, whether in tone, as with Tim Burton's darker take on Batman, or in content, as Christopher Nolan definitely drew inspiration for his Dark Knight films from the book.  In fact, reading this graphic novel made me wonder how The Dark Knight Rises might have been different had Heath Ledger lived.  (The Joker is a major player in the final two installments of The Dark Knight Returns.)
There's even ample evidence that the upcoming Batman v. Superman: Dawn of Justice takes some inspiration from this book, with the obvious reference to a fight between the two heroes and the SDCC trailer showing what amounts to a famous scene from the graphic novel.
IGN ranked The Dark Knight Returns #1 on their 25 Greatest Batman Comics list earlier this year:
The Dark Knight Returns is a masterpiece of comic-book storytelling. The pages are packed, sometimes with dozens of panels. Overcrowded, even. And yet, Miller creates a distinct pacing through each page and builds to perhaps the most optimistic ending in any Batman story. Yeah, Frank Miller ends with a touch of optimism.
I'll definitely read Batman: Year One at some point, and not just because I'm now counting graphic novels as books toward my yearly reading quota.  Honestly.  Because the stories can be awesome.  Also, it totally counts toward my yearly reading quota.  (I'm just one book away from my yearly goal, which is to read my age.)
That's another title off my 2014 ledger, leaving only two left: The Bible (I'll finish in a couple of weeks) and The Blood of Olympus.  Doh, I just noticed there's another one in there that I added to Goodreads but not my book database thingy: A Climate For Change.  So I'll be reading that one, too. 
On the Take Me To Your Reader podcast, I'll be posting an episode about A Boy and His Dog in the next week or so (BTW, not a kids' book; we watched it so you don't have to), and we'll be doing A Christmas Carol for our December show.  If you've read it, feel free to weigh in here and let me know what your favorite adaptation is.  I'm looking for films, mostly, but I'll really take anything.